Personal
Surprise!  It's not Mandev, it's me, Jasmine, guest blogging for the first time in my life 🙂   I'll start by saying that I am not a photographer, not a designer, not an artist.  I just like making things look pretty- ha!  Not long ago, I moved from California to Chicago as a fresh chapter of life unfolded.  Chicago is a new city for me, and the job I was starting- extremely busy.  So, it was very important to me to create a sort of haven in my new Windy City home.  I spent about two months scouring Craigslist, Homegoods, TJMaxx, and basically everywhere I went looking for things that spoke to me.  The catch?  I would be starting my first 'real' job and so had a very limited budget.  Plus, I'm cheap.  Here are some pictures of old items found on Craigslist, which I tweaked with basic 'tools' such as spray paint (ooooh, fancy) to make them more cohesive and more me.  Hope you all enjoy the results as much as I do!
lamps for $2/piece
tables for $5/piece
chair for $20
BEFORE….
AFTER….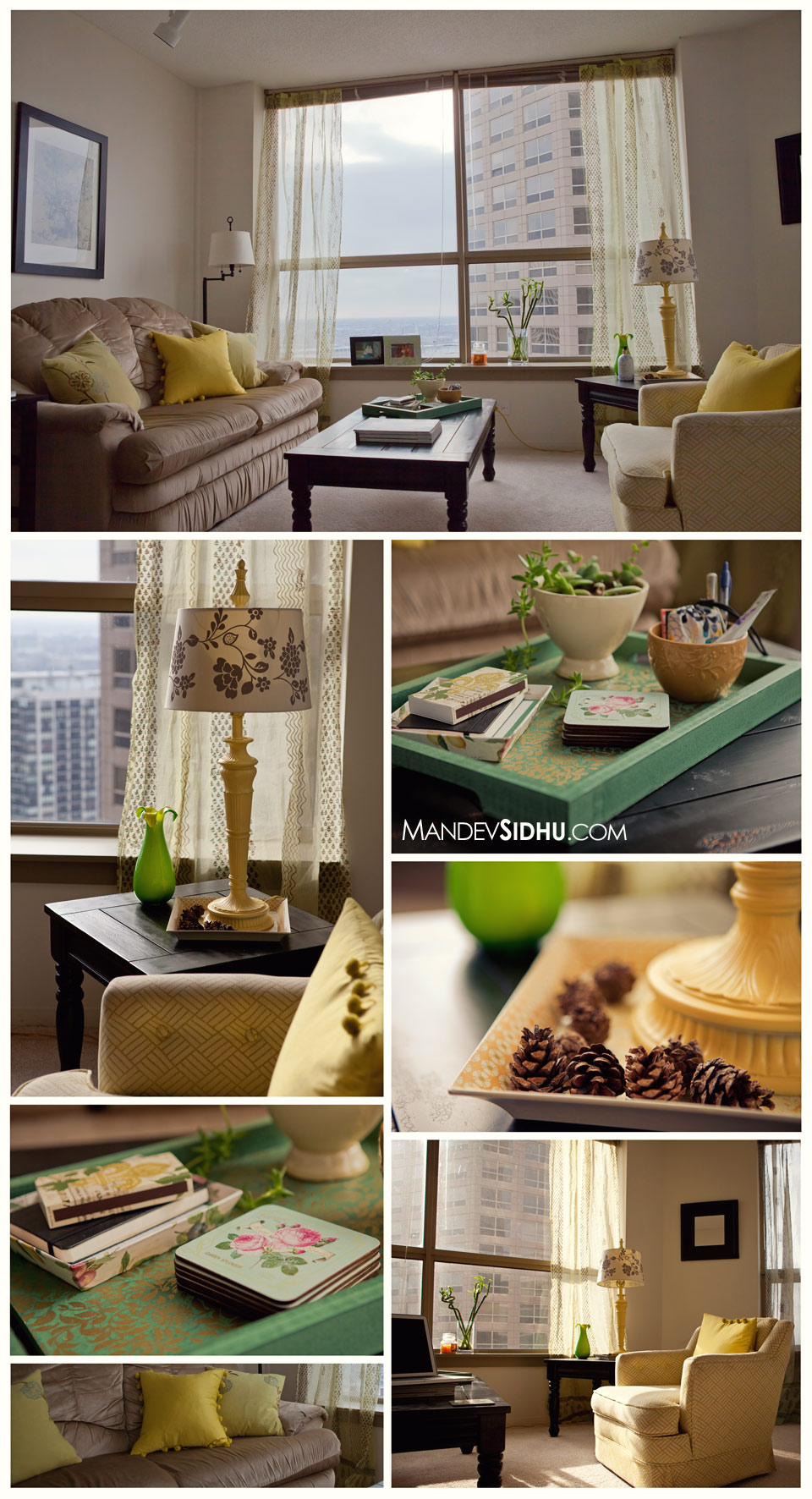 The living room lamps and tables came to life with a fresh coat of paint. Got this upholstered chair for 20 bucks from a sweet old lady (thank you Craigslist), and the pine cones were gathered at Morton Arboretum.
On a side note, for me, the mark of a good artist is one who sees beauty in daily life; one who can make you pause and wonder at a small, yet momentous moments.  And whenever I've looked through Mandev's work, it's as though I'm browsing through a series of momentous moments; just like life.  Thanks for letting me cameo in your blog Mandev!  Keep up the great work.